Competitor monitoring
With our online store pricing tool, adapting internal
pricing strategies to the pricing strategy of competitors
becomes automated, simple and instant.
We have developed a mobile application
for your field staff and a web panel for task setting
and report generation. Send tasks to the mobile devices
of field employees and receive reports on prices and
assortment of local competitors.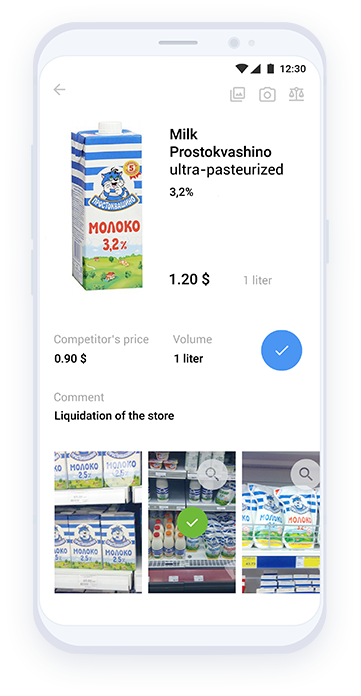 Your best pricing strategy
01
Easy start
Staff members will be able to download
our mobile app on their mobile device
while their managers will receive access
to the web admin panel aggregating
all collected data.
02
Monitoring,
planning and
task setting
In the control panel, managers
create a monitoring plan and
set tasks for the field staff.
Each task contains the date and time
of execution, the address of the competitor's
outlet and the report form.
03
Shelf images
recognition and
data extraction
Images of the shelves are processed by our
computer vision system, where SKU, price and
volume data is extracted.
The monitoring report is automatically
generated and sent to PowerPrice where
managers can access the collected data.
04
Recommendations and reports
Based on the collected data as well
as already available data, the optimal
pricing strategy is proposed to the managers.
All monitoring reports and recommendations
can be accessed through the PowerPrice
control panel.
Learn MORE ABOUT
PRICING OPTIMIZATION
Learn more