Competitor Monitoring
With online stores price intelligence and
reaction to competitors' prices is continuous and
instant, while implementation of price adjustment
based on market prices may take days and weeks in physical retail shop.
We've developed an application for field staff and
the web panel for task setting and report submission.
Send tasks to mobile devices of field employees and
receive reports on prices and assortment of local competitors.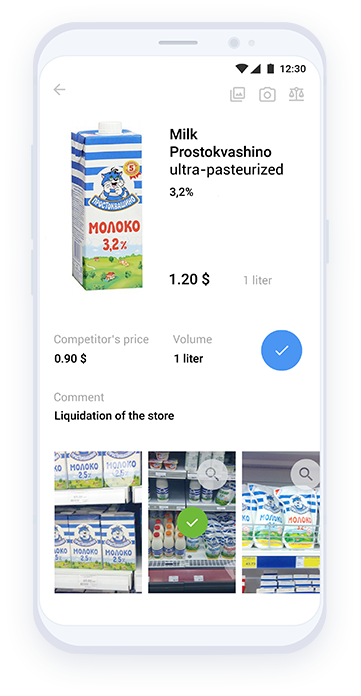 Best pricing strategy -
in several steps
01
Easy start
Assign employees responsible for
data collection and pass the list to
our managers.
The database of employees will be
integrated into our platform, after
that you can download the application
to staff smartphones, managers of the company
will have access to the control panel.
02
Monitoring
planning and
task setting
In the control panel managers
create a calendar monitoring plan and
set tasks for the field staff.
Each task contains the date and time
of execution, the address of the competitor's
outlet and the report form.
03
Shelf images
recognition and
data extraction
Images of the shelves are sent for processing by
a computer vision system, where SKU, price and
volume data is extracted.
Monitoring report is automatically formed and
sent to PowerPrice.
04
Data processing and reaction
The data from reports is uploaded
to the control panel automatically for further
analysis of the local market, determining the
optimal price for the goods and the strategy
for problem points.
Learn MORE ABOUT
PRICING OPTIMIZATION
Learn more